Skip Navigation
Website Accessibility
Stonehenge 10th Anniversary Celebration
Northcott fabrics is excited to celebrate the 10th anniversary of their line of Stonehenge fabrics. To celebrate the year, they have released a new line called Summer Solstice and planned a year of fun events. We're excited to be a fully participating shop!
For all the details you can visit their website at
www.northcott.com
. We've summarized some of them for you here.
Stonehenge Block Party International Event
The Stonehenge Block Party will run from March 15, 2019 to September 30, 2019.
You are invited to visit participating shops to buy and collect unique blocks that they have designed and kitted for you....as many as you like. (Also may be available on line. Nice since this is also international!!)
Your challenge is to use at least 12 blocks in a quilt design and submit a photo of the finished quilt to Northcott for the International Stonehenge Block Party Challenge.
Rules:
1. Must use at least 12 blocks collected from participating stores.
2. Quilts have to be made of 100% Stonehenge fabrics from the
Solstice Anniversary collection
with the option of including the Gradations Oxidized copper palette.
Click here for a pdf of the complete rules from Northcott.
Northcott judges will select 10 finalists and have them send in their quilts for the final round of judging. They will choose a 1st, 2nd and 3rd place winner.
Grand Prize: a 9-day trip for two to England with a private tour of Stonehenge in June 2020 (See more details below about the trip.)
2nd Prize: $1000 USD and a Stonehenge fabric prize pack valued at $250
3rd Prize: $500 USD and a Stonehenge fabric prize pack valued at $100
The three winning quilt will be displayed in the Traveling Stonehenge Quilt Display. Quilts will be returned to owners after the last display date.
This was our block.....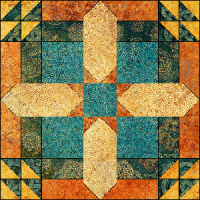 Check out the pillow we made with our block!
Stonehenge Panel Quilt Challenge
In Store Event
You are challenged to use the Solstice panel in a creative way to make a quilt no larger than 60" x 60" for a contest to be run in our store. The Solstice Panel Quilt can include other fabrics from the Anniversary collection and/or the Stonehenge Gradations Oxidized Copper palette. The winner will be awarded the Stonehenge Precut Prize pack. The deadline is November 30, 2019 for you to drop off your Panel Challenge Quilt. Each shops winning quilt will be shared online and the Northcott judges will select 10 international Solstice Panel Quilt winners who will each receive a $100 Stonehenge Fabric prize supplied by Northcott. Plus the shops of the winning quilts will also receive a prize!
Click here to print off the full contest rules.
Trip to England
To celebrate and have some fun, Northcott is planning a 9-day trip to England in June 2020. Northcott celebrities Linda Ludovico, Deborah Edwards, and Patti Carey will all take part in this trip along with people who won or purchased a ticket.
Some highlights that they are looking to include are:
Stonehenge
- an exclusive private visit. You will be right by the world famous UNESCO standing stones, not held back behind the barriers as most visitors are!
Wales
- to visit its charming capital city Cardiff and the fascinating Museum of Welsh Life and Lampeter, home of the famous Quilt Centre run by Jen Jones.
Bath
- to visit the American Museum in Britain with its remarkable collection of folk and decorative arts.
York
- to see the splendid York Castle Museum - a private curator's visit with Dr. Faye Prior, Collections Facilitator, and the British Quilter's Guild of the British Isles at St. Anthony's Hall
London
- to visit the famous Victoria and Albert Museum, the world's leading museum of Art and Design housing a permanent collection of over 4.5 million objects including patchwork and quilter covers illustrating over 300 years of British quilting history.
Trip is sold out!