Row By Row Wrap Up Party
was held on Friday, November 14, 2014
See the great things that have been made!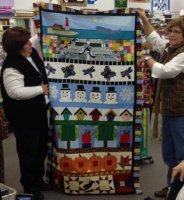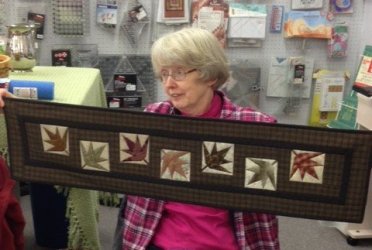 Note: Our leftover kits...not many of them...are available for purchase on our website now!
We still have license plates available for purchase in the store or by mail. Give us a call!

~~~~~~~~~~~~~~~~~~~~~~~~~~~~~~~~~~~~~~~~~~~~~~~~~~

The Row By Row Shop Hop Experience is coming to Massachusetts
and Quilts & Treasures will be participating!



If you picked up your row directions from us before July 12, please make the following changes to your pattern:




Cutting: From Blue sky also cut three 1" x 8" rectangles




Step 3: You are using the 3" x 2" piece cut (not a 3" x 2 1/2")




Step 4: You are using the 3" x 1 1/4" pieces cut (not a 2" x 1 1/4")




Step 4: Reference is to unit made in Step 3 (not Step 7).




We apologize for any inconvenience.



Make your own travel notebook! Print off the

cover

and then print some

pages

!
What is this? What's it all about?? Keep reading!

Do you need to register? No!

How many shops do you need to visit? As many as you want!

What are the dates? July 1st through September 2nd, the day after Labor Day

What do you do? Visit participating shops and ask for their free pattern for their row. Many shops will also have a fabric kit that you can purchase. If you are inspired, you then make a quilt using at least 8 rows that you've collected and bring it back to a shop. If you are the first to bring in a completed quilt* to that shop, you win their grand prize - a package of 25 fat quarters. If you've used the shop's row, there will be a bonus prize. Each store will be awarding a prize! Contest ends October 31, 2014.

Where are the shops? This year there are 35 states and the Province of Ontario participating with 1250 shops in total. You can see all the shops participating on the website
www.rowbyrowexperience.com
. This is a great adventure as you are traveling around this summer!

Click here for a list of the participating Massachusetts shops.

Is there a theme to this Shop Hop? Yes, the theme for 2014 is "Sew A Season".

Want to see our row we'll be giving out instructions for? Here it is:



What else can you look for? Many of the shops will be offering kits to make their row (and we will be!). Plus many shops will have commemorative fabric license plates. Each plate is different with the name of the state, city, and shop name as well as the vanity saying. Here's ours:



Do you want to see what's happening in Massachusetts? Check out our facebook page! Be sure to 'Like It'.
https://www.facebook.com/MaRowbyRowExperience
.

*Completed quilt is finished with batting, backing, and quilting.
We have a winner! Congratulations Lisa C. of Hampden, MA!
And here are other winning quilts that used our row!