Our PFAFF Club is made up of PFAFF machine owners who meet monthly for a lecture/demonstration of techniques, projects,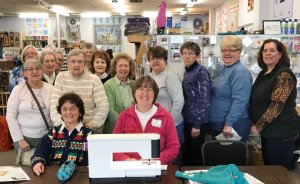 accessories or other information in the continuation of their learning all aspects and capabilities of their incredible PFAFF Sewing, Quilting, and Embroidery machines.

Monthly meetings: Second Tuesday of the month (11 am), and third Tuesday of the month (7 pm)

Club coordinator: Valerie

If you are interested in joining, please call the store….413-525-4789 (Annual Dues $55.00 if you purchased your Pfaff machine from us; $375 general membership)
Morning Pfaff Club March 2019


2020 Meeting Schedule:
---
January 14 or 21 Rescheduled Holiday Party!
February 11 or 18
March 17 (Both am & pm)
April 14 or 21
May 12 or 19
June 9 or 16 Zoom meetings - Ho Ho Ho Wallhanging
July 21 Zoom meeting for both groups at 7 pm
August 11 Zoom meeting for both groups at 7 pm - Tie-Off Button
Sept 8 or 15
October 13 Zoom meeting for both groups at 7 pm
November 10 or 17
December 15 (Both Groups at 7 pm) Holiday Party!