Our PFAFF Club is made up of PFAFF machine owners who meet monthly for a lecture/demonstration of techniques, projects,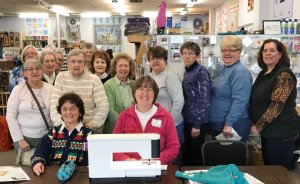 accessories or other information in the continuation of their learning all aspects and capabilities of their incredible PFAFF Sewing, Quilting, and Embroidery machines.

Meetings in 2022 will be via Zoom at 7 pm on the dates below until we can safely hold meetings at the store. Members can purchase items with their club 20% discount until the end of the next business day. Orders can be emailed, phoned in, or member can come in to the store.

Club coordinator: Valerie

If you are interested in joining, please click here.
2022: Annual Dues $55.00
Morning Pfaff Club March 2019


2022 Meeting Schedule:

am when available will be in-store
pm will be via zoom
---
January 18 Zipper foot and sewing in a zipper
February 22 Twin Needles - Two Times the Fun! (Meeting date changed due to Decorative Stitches with Pfaff event)
March 15 Lucky you are, and Lucky you'll be, If feet for your Pfaff machine, you own these three!
April 12 (am) & 19 (pm) Meet the Pfaff Icon 2. Let's play with Shape Creator
May 10 (am) & 17 (pm) 3D Pinwheel Quilt Blocks
June 14 (am) & 21 (pm) 60 degree Triangle Ruler
July 12 (am) & 19 (pm) Machine Maintenance
August 9 (am) & 23 (pm) Notions Commotion!
September 20 (am & pm) New Bowl Cozy Templates - Demo by Paula
October 4 (pm) Some Free-Motion Tips and Techniques
November 15 (pm) Pfaff Specialty Stitches - Floating and Radiating
December 20 (pm) Holiday Party - Mug Rug Challenge (Rescheduled from December 13)