Our PFAFF Club is made up of PFAFF machine owners who meet monthly for a lecture/demonstration of techniques, projects,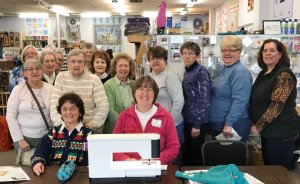 accessories or other information in the continuation of their learning all aspects and capabilities of their incredible PFAFF Sewing, Quilting, and Embroidery machines.

Meetings in 2021 will be via Zoom at 7 pm on the dates below. Members can purchase items with their club 20% discount until the end of the next business day. Orders can be emailed, phoned in, or member can come in to the store.

Club coordinator: Valerie

If you are interested in joining, please click here.
2021: Annual Dues $55.00
Morning Pfaff Club March 2019


2021 Meeting Schedule:
---
January 19 Do you want to build a snowman? Or have a snowball fight? Let's talk Snowball blocks!
February 16 Send some love! Learn about Fabric Postcards with Barbara Sanofsky
March 16 Take the luck out of a successful project. Learn which stabilizer to use!
April 20 Crazy Quilting with Sue Reis
May 18 These are a few of my favorite feet!
June 15 Half square triangles - Accordian Style with Judy Putnam; Mystery quilt project by Sandy Pennas
July 20 Time to think about Holiday gifts.
August 17 New Serger: Admire Air 7000
September 21 Log Cabin Quilts Power Point presentation
October 19 Trick or Treat Bags
November 16 Binding Tool Attachment with Sue Reis
December 14 Holiday Party