2014 Block of the Month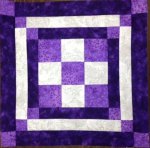 Ninth Anniversary
Quilts & Treasures
Block of the Month

Our year is over! Finishing kits are now being made and some are ready for pick up. Here are photos of our finished quilts! Hope you had a fun year with these great blocks!! Quilt Designed by Valerie Morton.


Batik Version
Reproduction Version
Christmas Version
Radiant Orchid Version


Watch for our 10th Anniversary Block of the Month Mystery Quilt starting April 10, 2015.
Four colorways: Batik, Reproduction, Asian, Blues
Sign up now!